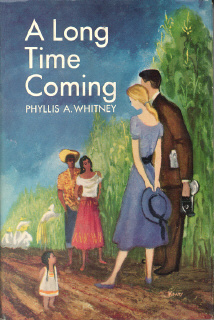 From the jacket
This is the story of a young girl and her problems set against the backdrop of a community divided against itself.
Tension and ill feeling lie close beneath the surface in Leola, a Midwestern town. Migrant workers employed by the town's only big industry, the growing and canning of corn, operated by the Allard Company, are both the base of its prosperity and the object of the townspeople's resentment. Hated by some, feared by others, suspected by many of unsolved crimes, the migrants reciprocate in mistrust and sullen anger.
Into this confused and explosive atmosphere comes Christie Allard, the eighteen-year-old daughter of the plant's absentee owner. Raised in the distant city, she has had no contact with the town, or interest in its problems. Though her visit is intended as a quiet retreat to sort out her own personal problems, she is shortly engulfed in the conflicting attitudes and efforts of her aunt, Miss Amelia Allard; of a surprising young minister, Alan Bennett; of a social worker, Marge Molloy; and of Tom Webb, an outspoken reporter.
Through a girl of the migrant camp--Aurora Gomez of the flashing eyes and fiery temper--Christie finds herself drawn still more deeply into the conflict. The way in which Christie works for a solution to the situation and resolves her own problems as well makes for a deeply satisfying story of real people in our times.
Jacket by Ezra Jack Keats
Copyright 1954
David McKay Company, Inc. New York, NY
Library of Congress Card Catalog No. 54-1332
ISBN: N/A

Website content is not to be Duplicated or Distributed.
Except where otherwise noted, all text and graphics on this Web site are © Philip W. Tyo. Written permission must be obtained from Philip W. Tyo before using any text or graphics from this site, either in printed material or other Web sites. By using this Web site, you agree to these Terms of Use and this website Privacy Policy.

Copyright © Philip W. Tyo 1999-2010
This site was created by Philip W. Tyo. All rights reserved.