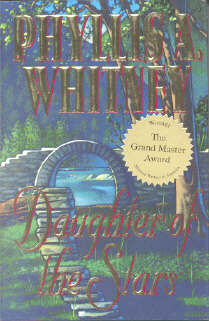 From the jacket
Lacey Elliot seems to have everything-looks, talent, and a thriving business-but there has always been a great deal missing from her life. For the past thirty years, her mother has staunchly refused to discuss Lacey's absent father or the fact that the two women seem to be totally alone in the world without any relatives.
While her mother is recovering from a debilitating illness, a letter arrives from a woman claiming to be Lacey's great-aunt. Driven by a need to discover what her mother has feared all her life, Lacey sets off for the town of Harpers Ferry, West Virginia, a quiet community with a tumultuous past that sits at the confluence of two rivers: the Shenandoah-known as "daughter of the stars" in Indian legend-and the mighty Potomac. Here she hopes to discover who she really is and why her past has been shrouded in mystery for so long.
Indeed, the letter sets in motion events that cannot be stopped, for Lacey quickly learns the whereabouts of her mother's family, that her father was killed when she was young, and that her aunt believes his killer has returned to walk among them once more.
Jacket designed by Ken Sansone
Jacket painting 1994, by Dan Sneberger
Copyright 1997
Crown Publishers, Inc.
New York, NY
Library of Congress Card Catalog No. 94-25532
ISBN: 0-517-59929-5


Website content is not to be Duplicated or Distributed.
Except where otherwise noted, all text and graphics on this Web site are © Philip W. Tyo. Written permission must be obtained from Philip W. Tyo before using any text or graphics from this site, either in printed material or other Web sites. By using this Web site, you agree to these Terms of Use and this website Privacy Policy.

Copyright © Philip W. Tyo 1999-2010
This site was created by Philip W. Tyo. All rights reserved.