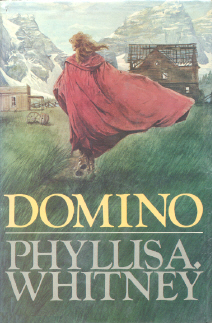 From the jacket
Haunted by a past she can neither remember nor entirely forget, Laurie Morgan is precariously balanced on the rim of emotional disaster.  Not even the men who love her have been able to reassure her when the strange silver light flashes out of the past to threaten her with the reality she had once been forced to flee.
Then--after decades of implacable silence--Laurie is summoned back to Jasper, Colorado, by the woman who banished her.  The magnetic actor, Hillary Lange, who accompanies her West, must try to shield her from the arrogance of Persis Morgan.  But Laurie discovers all too soon that in  Jasper the past is very much alive.  Long-ago voices whisper of secrets hidden behind the doors of once opulent mansions.
Laurie must enter the closed rooms of Morgan House and of her own memory if she is to uncover the mysterious tragedy that still echoes in dusty streets and crumbling mine shafts.  She must confront her declared enemy, Mark Ingram, the ruthless speculator who would turn the area into a flamboyant resort.   Sooner or later Laurie must accept the weight of her own dangerous legacy.   Most of all she must face her own fears at last--giving herself fully and openly to the man who will stand with her against any consequences.
Jacket Illustration by Laurence Schwinger
Jacket Typography by Dennis McClellan
Copyright 1979
Doubleday & Company, Inc. Garden City, NY
Library of Congress Card Catalog No. 79-7331
ISBN: 0-385-15419-4


Website content is not to be Duplicated or Distributed.
Except where otherwise noted, all text and graphics on this Web site are © Philip W. Tyo. Written permission must be obtained from Philip W. Tyo before using any text or graphics from this site, either in printed material or other Web sites. By using this Web site, you agree to these Terms of Use and this website Privacy Policy.

Copyright © Philip W. Tyo 1999-2010
This site was created by Philip W. Tyo. All rights reserved.