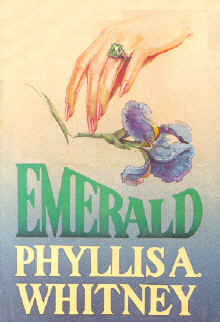 From the jacket
EMERALD takes heroine Carol Hamilton to the intriguing, subtly shadowed world of Palm Springs, California, where a secret reaching back into Hollywood history is about to explode with consequences menacing many lives.
The names of Monica Arlen and Saxon Scott have spelled magic to Carol since the days when she watched their marvelous old movies being replayed on television.  When flight with her small son is Carol's only refuge from her husband's savage threats, her great-aunt Monica Arlen seems her one sanctuary.
Instead, she finds unexpected danger, as well as unexpected love. The drama of Monica and Saxon, created so tragically in the past, must be played out again in the present, with Carol the frightened and unwilling catalyst, fighting for her own life, and for the safety and well-being of her son.
Jacket by Linda Fennimore
Copyright 1982, 1983 Doubleday & Company, Inc. New York, NY
Library of Congress Card Catalog No. 82-45369
ISBN:  0-385-18285-6


Website content is not to be Duplicated or Distributed.
Except where otherwise noted, all text and graphics on this Web site are © Philip W. Tyo. Written permission must be obtained from Philip W. Tyo before using any text or graphics from this site, either in printed material or other Web sites. By using this Web site, you agree to these Terms of Use and this website Privacy Policy.

Copyright © Philip W. Tyo 1999-2010
This site was created by Philip W. Tyo. All rights reserved.