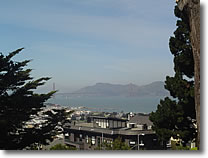 George Sterling Park is a restful spot with paths and terrace areas offering dramatic views of San Francisco, the bay, and the Golden Gate Bridge. View some photos of the city from my visit to George Sterling Park.
Following the 1906 earthquake, much of Russian Hill burned. While little is mentioned about this area in The Trembling Hills, Phyllis A. Whitney George Sterling Park as part of her research efforts, and it is worth a visit to take in the views from the hill. While you are there, you can also visit Lombard Street which is famously known as "the crookedest street in the world".
George Sterling Park is located at Hyde and Larkin Streets between Lombard and Greenwich Streets. For more information, check out the pages at these web sites:
Wikipedia - contains a biography of George Sterling.

George-Sterling.org - contains a collection of material on George Sterling, including his poems.
Next, visit The Palace Hotel.