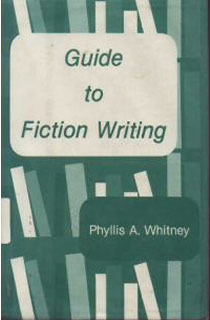 From the jacket
In this practical handbook, one of the most successful fiction writers in the world analyzes her tested methods and techniques and tells writers how to use them to sell their own novels and stories.
Part I-"Methods and Process"- examines in detail the various approaches to writing fiction and shows the importance of developing strict working habits, organizing a notebook (the basis of all of Miss Whitney's novels), and planning and plotting a novel. The author shares her experiences in finding fresh ideas, putting inspiration ("The Force") to work, and overcoming writer's block.
Part II covers the "Techniques" that every fiction writer must master to meet the demands of publishers and readers. Drawing on her own best-selling novels for examples, Miss Whitney describes the elements of the fiction writer's craft that are essential to writing satisfying and salable material: view-point; beginnings, middles and endings; conflict; goal; suspense and surprise (and how to distinguish between them); believable characters; and flashbacks, transitions and time. Her chapter on revising and rewriting-which she believes to be an essential stage-is a must and includes a checklist of 15 danger spots against which writers should measure their manuscripts before submitting them.
Guide to Fiction Writing takes writers step by step from idea to published story or novel. Both aspiring and established writers will find its sound advice instructive and inspiring as they apply it to their own fiction writing.
Copyright 1982
The Writer, Inc.
Boston, MA
Library of Congress Card Catalog No. 81-016094
ISBN: 0-87116-157-5


Website content is not to be Duplicated or Distributed.
Except where otherwise noted, all text and graphics on this Web site are © Philip W. Tyo. Written permission must be obtained from Philip W. Tyo before using any text or graphics from this site, either in printed material or other Web sites. By using this Web site, you agree to these Terms of Use and this website Privacy Policy.

Copyright © Philip W. Tyo 1999-2010
This site was created by Philip W. Tyo. All rights reserved.