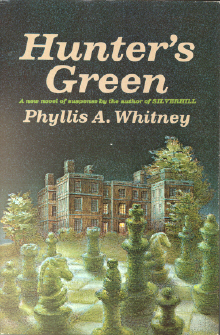 From the jacket
"The nightmare was one from which I could not waken. I was caught upon a chessboard, a helpless pawn in a game of life and death, and the green rook was hunting me. That tall rook of green-black yew who had it in his power to destroy the king and end the game..."
When Eve North returns to Athmore after three years' separation from her husband Justin, she finds the great estate-and Justin himself-vastly changed. Eve too has changed. She knows now the mistakes she made in her marriage in the past, and she now dares to win back the love of her own husband. Like another Eve, she wanders into the gardens of Athmore, unsuspecting.
Yet she has reason to fear. Justin's brother Marc had once before placed her in a compromising position in that place of secrets-the green velvet room. Justin had believed Marc and never forgiven her. Now Marc waits for her at Athmore. Then, too, she has been warned that Justin has made up his mind at last to divorce her in order to marry Alicia Daven-the cool, serene Alicia whose quiet assurance comes from generations at Grovesend, and who has always taunted the American Eve with her tempting of Justin.
Old Daniel-just before he is sent to his death-tries to warn Eve. It is he who carved from the green-black yew a topiary garden, one of the marvels of Athmore. The dark trees are clipped into the shape of chessmen, at a game forever in play. The black rook stands poised in readiness, like a hunter ready for the kill, challenging the white king. Daniel cries to Eve, "It's the black rook's play!"-but he dies before Eve can learn his fateful meaning.
Eve finds herself entrapped on a chessboard of evil, unsure of her next move, yet aware that the black rook will move again-this time to destroy her.
Jacket painting by Alice Smith
Copyright 1968
Doubleday & Company, Inc. New York, NY
Library of Congress Card Catalog No. 68-14185
ISBN: N/A


Website content is not to be Duplicated or Distributed.
Except where otherwise noted, all text and graphics on this Web site are © Philip W. Tyo. Written permission must be obtained from Philip W. Tyo before using any text or graphics from this site, either in printed material or other Web sites. By using this Web site, you agree to these Terms of Use and this website Privacy Policy.

Copyright © Philip W. Tyo 1999-2010
This site was created by Philip W. Tyo. All rights reserved.