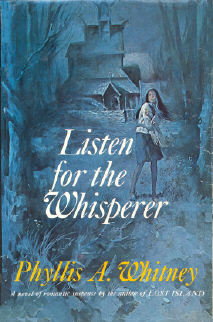 From the jacket
Leigh's father was a famed novelist and her mother, a great actress of Hollywood's golden age. But they never married. Leigh grew up without knowing her real mother-viewing the distant, romantic figure with bitterness and resentment. Her father's death, however, brought them together, as Leigh honored his deathbed request to travel to Bergen, Norway, and search out Laura Worth, the woman who had known his deepest love.
Laura, too, was haunted by the past-by the unsolved murder that had occurred on the set of her last movie, The Whisperer, where she had found the director bludgeoned to death one night. Although cleared of all guilt, she had mysteriously left the film colony forever.
When Leigh arrived in Bergen, she found Laura's life still darkened by the shadow of the crime. As a series of "accidents" made clear, someone was trying to destroy Laura-or drive her to self-destruction. At night in the Kalfaret house, voices would whisper "Listen... Listen," just as they had in her ill-fated final film. Because she is Laura's daughter, Leigh soon finds herself a target as well, and only a climactic, terror-filled confrontation brings the long-sought answers.
Jacket illustration by Carl Hantman
Jacket typography by Gina Rosencrantz
Copyright 1971
Doubleday & Company, Inc. Garden City, NY
Library of Congress Card Catalog No. 76-168682
ISBN: N/A


Website content is not to be Duplicated or Distributed.
Except where otherwise noted, all text and graphics on this Web site are © Philip W. Tyo. Written permission must be obtained from Philip W. Tyo before using any text or graphics from this site, either in printed material or other Web sites. By using this Web site, you agree to these Terms of Use and this website Privacy Policy.

Copyright © Philip W. Tyo 1999-2010
This site was created by Philip W. Tyo. All rights reserved.