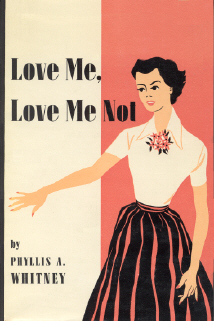 From the jacket
What Susan Morris wanted most of life was a husband to love, a home to keep. But when chance brought her to Chicago she found that though the city was filled with young men, it didn't seem easy to meet the right one. Michael was charming, but fickle, Andy was kind, but in love with another girl. While puzzling out her problems, Sue did some necessary growing up by making unusual use of her domestic talents.
Her path was not made easier by the two girls with whom she shared an apartment. Nan, wholeheartedly concerned with her work as a teacher, tried to be helpful, but had a tendency to dominate. Carol, the model, self-centered and selfish, knew men well enough to give her straightforward advice when she chose.
Miss Whitney tells an honest love story and writes with understanding of a girl uncertain about what she wants to do with her life.
Jacket by Arline K. Thompson
Copyright 1952
Houghton Mifflin Company Boston, MA
Library of Congress Card Catalog No. 52-001037
ISBN: N/A

Website content is not to be Duplicated or Distributed.
Except where otherwise noted, all text and graphics on this Web site are © Philip W. Tyo. Written permission must be obtained from Philip W. Tyo before using any text or graphics from this site, either in printed material or other Web sites. By using this Web site, you agree to these Terms of Use and this website Privacy Policy.

Copyright © Philip W. Tyo 1999-2010
This site was created by Philip W. Tyo. All rights reserved.