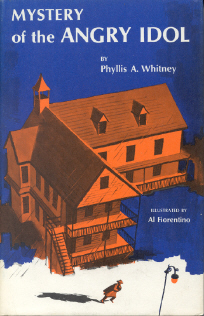 From the jacket
Mystic, Connecticut, with its historic seaport, is a fascinating place to spend the summer… but Jan Pendleton is homesick for her family overseas in Vietnam. Her grandmother's old white house, with its peaked roofs and widow's walk overlooking the river, is too quiet, she thinks, when she arrives to visit there. But that's before she meets Neil, the inquisitive next-door neighbor, Patrick, the angry red-haired boy with the motor boat, and the dark, bearded stranger who has been hiding in the shrubbery, watching the house.
And then there is Great-grandmother Althea who lives upstairs, secluded from the world, amid her collection of monsters and her jade treasures, her mind full of stories of China, where she lived long ago. There is a quick flash of warmth between the girl and the remarkable old lady -- and soon they share a secret that draws them closer together in the web of mysteries which surrounds the house.
The hideous Chinese image that stands in the corner on the highest shelf in "Miss Althea's" room holds a memory and a message. Jan's father had tried to solve its mystery when he was a boy, but had never succeeded. Jan is determined that she will discover it -- but apparently someone else is trying to discover it too! The idol is stolen -- and a priceless jade carving disappears. Jan finds herself an unwilling eavesdropper at secret midnight conversations and in desperate need of an ally she can trust.
A sea captain who carves models of sailing vessels, an ex-convict who has returned to Mystic to prove his innocence and try for a second chance, and a tape recorder that seems curiously modern in the historied old house, all provide complications in the exciting plot, as Jan's imagination and ingenuity unravel the mystery. There is a thrilling climax in the hold of the Charles W. Morgan, the last of the whaling ships, anchored at Mystic Seaport, before Great- grandmother Althea and Jan discover the secret of the "happy heart" and the angry idol reveals its long-hidden mystery.
Illustrated by Al Fiorentino
Copyright 1965
The Westminster Press Philadelphia, PA
Library of Congress Card Catalog No. 65-16498
ISBN: N/A


Website content is not to be Duplicated or Distributed.
Except where otherwise noted, all text and graphics on this Web site are © Philip W. Tyo. Written permission must be obtained from Philip W. Tyo before using any text or graphics from this site, either in printed material or other Web sites. By using this Web site, you agree to these Terms of Use and this website Privacy Policy.

Copyright © Philip W. Tyo 1999-2010
This site was created by Philip W. Tyo. All rights reserved.