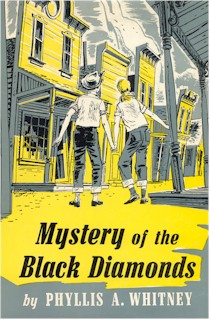 From the jacket
When Angie and Mark first look at the treasure map given them by the old prospector, they are unable to figure out its meaning or even decide whether or not it is a hoax. But when they persuade their parents to visit the ghost town of Blossom, one clue after another comes to light.
Strange howlings waken them at night, strange eyes watch them as they walk the deserted streets. It becomes evident that more than one person is hunting for the treasure, and there are those who want to hinder Angie and Mark in their search.
Angie meets Jinx Kobler, a girl her own age, living with her grandparents in the crumbling town. Jinx loves the old town and resents outsiders. She is oddly secretive about her mother and father, adding one more question to those which puzzle Angie.
Who or what is Abednego? What are the black diamonds and where are they hidden? Why did the old prospecter make no use of the treasure himself? What queer animal haunts these empty streets at night and steals from the newcomers?
Jacket illustration by John Gretzer
Copyright 1953
The Westminster Press Philadelphia, PA
Library of Congress Card Catalog No. 53-8355
ISBN: N/A


Website content is not to be Duplicated or Distributed.
Except where otherwise noted, all text and graphics on this Web site are © Philip W. Tyo. Written permission must be obtained from Philip W. Tyo before using any text or graphics from this site, either in printed material or other Web sites. By using this Web site, you agree to these Terms of Use and this website Privacy Policy.

Copyright © Philip W. Tyo 1999-2010
This site was created by Philip W. Tyo. All rights reserved.