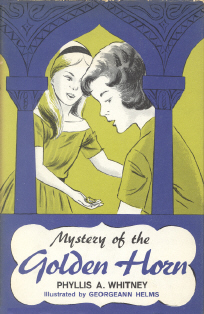 From the jacket
Vicki Stewart's father teaches in an American college in Istanbul, Turkey-which makes that ancient, fascinating city the last place his daughter would normally choose to visit for the summer. Still, as the saying goes, any port in a storm, and right now the disgrace of having failed the spring term at school leaves her less than eager for her usual vacation at camp, where she'll have to face more successful classmates. Four distraught aunts decide that the "difficult" fourteen-year-old, whose mother is in the hospital, should be sent to her father at once.
He boards in a house on the Bosporus, a real pasha's palace. Although the haremlik is an unused part of the house, Adria March claims that Turkish ladies still rustle around in their silks and bangles, ready to veil their faces at sight of a strange man. Recently orphaned and now a temporary ward of the American woman who tennants the palace, Adria is the same age as Vicki but twice as capable of getting into trouble.
A young gypsy girl with whom she is friendly has told her that a mysterious "golden horn" is the key to her fortune. In an effort to make the gypsy's words come true, Adria removes a valuable horn-shaped pin from her guardian's prized collection of unusual objects. When the pin disappears, however, suspicion falls on Vicki, who has been caught in highly compromising circumstances. The sign of the golden horn, the gypsy reveals, is in Vicki's hand also, showing her fate is linked with Adria's.  Certainly, this seems true as Vicki is caught inextricably in the consequences of the beautiful, imaginative native girl's erratic behavior. Adria's pursuit of her destiny takes them both into the narrow, cobblestoned streets of old Istanbul leaves them stranded after dark inside the formidable fortress of Rumeli Hisar, and erupts finally into a situation of gravest threat. What force possesses Adria, how Vicki comes to a clearer view of her own problems are matters of more personal moment interwoven in this story with mystery, suspenseful adventure, and the historic collision of old ways and new hopes in colorful Turkey.
Jacket and text illustrations by Georgeann Helms
Copyright 1962
The Westminster Press Philadelphia, PA
Library of Congress Card Catalog No. 62-13784
ISBN: N/A


Website content is not to be Duplicated or Distributed.
Except where otherwise noted, all text and graphics on this Web site are © Philip W. Tyo. Written permission must be obtained from Philip W. Tyo before using any text or graphics from this site, either in printed material or other Web sites. By using this Web site, you agree to these Terms of Use and this website Privacy Policy.

Copyright © Philip W. Tyo 1999-2010
This site was created by Philip W. Tyo. All rights reserved.