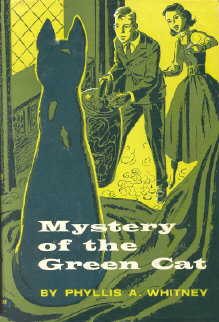 From the jacket
The marriage of newspaperman Roger Dallas and Mrs. Emily Spencer brings together four young people: Andy and Adrian, thirteen year-old sons of Roger Dallas; and Emily Spencer's two daughters, Jill, twelve, and Carol, eight. The boys resent their father's remarriage and are hostile to their stepmother and the two girls. After several trying episodes, Andy decides to compromise and make the best of the situation, but Adrian's sensitivity keeps him rude and unfriendly.
A diversion brings a new development in the family's problems. There are some exciting rumors about the people who live in the old Victorian house next door. Roger Dallas even suggests that there might be a mystery locked behind its forbidding walls. When a rock shatters a window in the girls' room and a strange note about a green cat is found, Jill and Andy decide to investigate. Jill meets Hana Tamura, a Japanese girl whose parents work for the people in the mysterious mansion. Hana has been forbidden to be friendly with anyone in the neighborhood, and when Jill asks about the green cat, the effect on Hana is electric. One thrilling adventure follows upon another and Andy and Jill make some startling discoveries.
This is a strange and suspenseful story in which the author has caught the atmosphere and Oriental heritage of San Francisco. The smell of camphor, incense, and dust intermingle within its pages. But MYSTERY OF THE GREEN CAT is more than a fine mystery. . . it is a story of the adjustment that four young people make to each other and to a new family relationship.
Jacket illustration by Richard Horwitz
Copyright 1957
The Westminster Press Philadelphia, PA
Library of Congress Card Catalog No. 57-5435
ISBN: N/A


Website content is not to be Duplicated or Distributed.
Except where otherwise noted, all text and graphics on this Web site are © Philip W. Tyo. Written permission must be obtained from Philip W. Tyo before using any text or graphics from this site, either in printed material or other Web sites. By using this Web site, you agree to these Terms of Use and this website Privacy Policy.

Copyright © Philip W. Tyo 1999-2010
This site was created by Philip W. Tyo. All rights reserved.