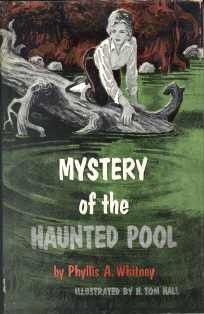 From the jacket
Leaving her family in New York at the start of summer vacation, Susan Price comes up the river to the little town of Highland Crossing, where her aunt runs an antique shop. Aunt Edith has been working on a deal that, if successful, will permit the Price family and herself to live in the big house belonging to Captain Dan Teague.
Besides the antiques in her aunt's shop, Susan meets a number of oddities, including a middle-aged spinster who cavorts about in spectacular play clothes, and a boy with a brace on his leg and an oversized chip on his shoulder. The bizarre bachelor lady shows an unusual interest in a barrel of books Aunt Edith has acquired from the Teague attic. Later, Susan discovers Miss Altoona hiding in the brush, watching the Teague house most suspiciously.
Captain Dan at last agrees to rent his house, and that's when the mystery surrounding it really goes into high. The very first night that she and her aunt sleep there Susan hears strange noises, and both of them find an opened window and, on the living room floor, something ominous indeed. Most frightening of all is the face in a pool: it stares up at Susan through the water, then disappears!
What everything means, Susan learns in the end, of course, but not before a fire in Miss Altoona's house sets many matters to right and readers themselves have gulped in mystery-fan's delight.
Jacket and text illustrations by H. Tom Hall
Copyright 1960
The Westminster Press Philadelphia, PA
Library of Congress Card Catalog No. 60-9715
ISBN: N/A


Website content is not to be Duplicated or Distributed.
Except where otherwise noted, all text and graphics on this Web site are © Philip W. Tyo. Written permission must be obtained from Philip W. Tyo before using any text or graphics from this site, either in printed material or other Web sites. By using this Web site, you agree to these Terms of Use and this website Privacy Policy.

Copyright © Philip W. Tyo 1999-2010
This site was created by Philip W. Tyo. All rights reserved.