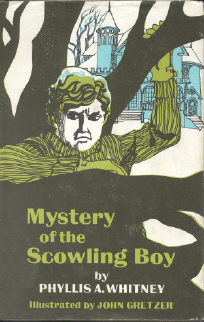 From the jacket
Imagine being so lucky! When Jan goes to spend the Christmas holidays with her grandparents in their chalet near the ski slopes in Pennsylvania's Pocono Mountains she discovers that her favorite movie star, Alanna Graham, is visiting next door!
Naturally, Jan, who wants to be an actress herself, is determined to get to know Alanna. Steven, Alanna's son, looks like the first step. But he is scowling, unfriendly, and strangely resentful of his beautiful mother. And Jan soon discovers that as far as Alanna's cousin, the housekeeper, and her business manager go, she is definitely not welcome. Why?
Alanna is wonderful, as warm as the image she projects on the screen, but something in the dark, turreted, old house seems to be frightening her. The weird statues of tortured-looking people locked in an upper room are supposed to come to life at night. Is some dreadful secret hidden there with them? And what is Alanna's feeble grandfather trying to tell Jan and her brother?
As Jan deciphers the mysterious threat to Alanna and Steven, she discovers some other secrets too-and they make this a satisfying story about growing up as well as an exciting tale of suspense.
Jacket and text illustrations by John Gretzer
Copyright 1973
The Westminster Press Philadelphia, PA
Library of Congress Card Catalog No. 72-7272
ISBN: 0-664-32523-8


Website content is not to be Duplicated or Distributed.
Except where otherwise noted, all text and graphics on this Web site are © Philip W. Tyo. Written permission must be obtained from Philip W. Tyo before using any text or graphics from this site, either in printed material or other Web sites. By using this Web site, you agree to these Terms of Use and this website Privacy Policy.

Copyright © Philip W. Tyo 1999-2010
This site was created by Philip W. Tyo. All rights reserved.