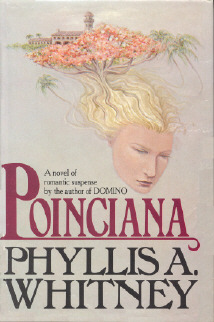 From the jacket
When Ross Logan proposed, it seemed that Sharon Hollis's dreams had come true, and that the nightmare of her recent past was at last over. She would be safe with Ross, she would find happiness, a family, a home....
Now, as the wife of one of America's richest men, she arrives at Poinciana, the fabulous Palm Beach estate built by her mother-in-law, where she begins to sense hidden undercurrents of hospitality. From Jarrett Nichols, Ross's principal aide, to Ross's impetuous sister Gretchen-only a few years younger than Sharon herself-every resident of Poinciana greets her with suspicion and resentment. Even her dynamic, solicitous husband begins to seem like a dark and menacing stranger.
And then the incidents begin. Have the missing pieces of the priceless Logan art collection been mislaid or stolen? Did the rushing figure on the staircase whisper a warning or a threat? Who is behind the haunting that echoes down the elegant hallways, filling Sharon with remembered anguish and renewed pain? Suddenly her dream is again transformed...into a nightmare where love is a shining light at the distant end of a deadly passageway.
Jacket illustration by Georgia Pearson
Jacket typography by Dennis McClellan
Copyright 1980
Doubleday & Company, Inc. Garden City, NY
Library of Congress Card Catalog No. 80-949
ISBN: 0-385-17184-6


Website content is not to be Duplicated or Distributed.
Except where otherwise noted, all text and graphics on this Web site are © Philip W. Tyo. Written permission must be obtained from Philip W. Tyo before using any text or graphics from this site, either in printed material or other Web sites. By using this Web site, you agree to these Terms of Use and this website Privacy Policy.

Copyright © Philip W. Tyo 1999-2010
This site was created by Philip W. Tyo. All rights reserved.