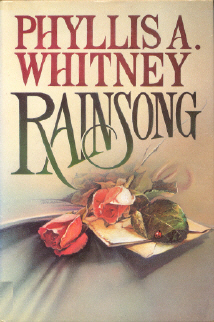 From the jacket
The long corridors of Windtop echoed with emptiness.  No one else was supposed to be out there in the dark.   Yet when Hollis stepped into the hall, she could hear the voice singing eerily: Let the rain fall sweetly.
Only one man could sing   her "rainsong" in exactly that way-a song Hollis had written especially for her husband, Ricky Sands, the famous popular singer.  But Ricky had killed himself months ago in New York, so who could want to torment her in so frightening a manner?
The setting is the former whaling town of Cold Spring Harbor, on Long Island's North Shore, a quiet and picturesque town in its present-day setting.  Surely a place for Hollis to escape the notoriety surrounding Ricky's death.  Or so she thinks.
But there are those who are not telling everything thing they know about Ricky. Among them, Alan Gordon, who has rescued her from press and cameras, and brought her to this country home of the once-distinguished pianist Geneva Ames, a woman with secrets of her own to conceal.
The story unfolds through the actions of these and other characters whom Phyllis Whitney depicts so well, involving her readers in tantalizing events, as Hollis finds new creativity in her song writing and a new chance for love in her life.
Jacket by Linda Fennimore
Copyright 1984
Doubleday & Company, Inc. New York, NY
Library of Congress Card Catalog No. 83-5312
ISBN: 0-385-18996-6


Website content is not to be Duplicated or Distributed.
Except where otherwise noted, all text and graphics on this Web site are © Philip W. Tyo. Written permission must be obtained from Philip W. Tyo before using any text or graphics from this site, either in printed material or other Web sites. By using this Web site, you agree to these Terms of Use and this website Privacy Policy.

Copyright © Philip W. Tyo 1999-2010
This site was created by Philip W. Tyo. All rights reserved.