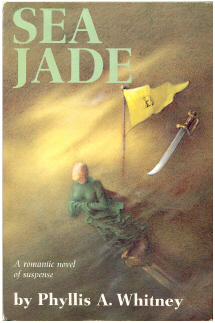 From the jacket
As the carriage approached Bascomb's Point, Miranda Heath's gay spirit of adventure waivered under the combined onslaught of the raging storm and the shadowy outline of the gloomy, mysterious old house ahead. She shivered as she remembered her father's dying warning that the house was one of ill-omen.
But now Miranda was alone and without resources. Wasn't it natural that she should turn to the sea captain whose romantic, adventurous past was as much a part of her heritage as the legendary ship, the Sea Jade?
Miranda soon has cause to regret her impulsive visit, for she finds herself plunged into a loveless marriage with a dour, black-browed Scotsman. She will never submit - yet she must remain.
Everyone in the great house at Bascomb's Point seems to seek bitter revenge against her. Tight-lipped Sybil, her husband's autocratic mother, makes terrible accusations, while Obadiah's exotic wife, the Chinese woman Lien, moves mysteriously to obstruct her at every turn. Only Ian Pryott, himself a victim of Bascomb tyranny, offers sympathy and help. Fighting for her life and happiness, a desperate Miranda realizes that she will have to piece together the tragedy of the three sea captains if she is to solve her own nightmare. Miranda's moment of truth comes during a raging fire aboard an old whaling ship in a scene that climaxes the most compelling, exciting novel ever to come from the pen of the mistress of romantic suspense, Phyllis A. Whitney.
Jacket painting by Alice Smith
Copyright 1964
Appleton-Century
New York, NY
Library of Congress Card Catalog No. 65-12605
ISBN: N/A


Website content is not to be Duplicated or Distributed.
Except where otherwise noted, all text and graphics on this Web site are © Philip W. Tyo. Written permission must be obtained from Philip W. Tyo before using any text or graphics from this site, either in printed material or other Web sites. By using this Web site, you agree to these Terms of Use and this website Privacy Policy.

Copyright © Philip W. Tyo 1999-2010
This site was created by Philip W. Tyo. All rights reserved.