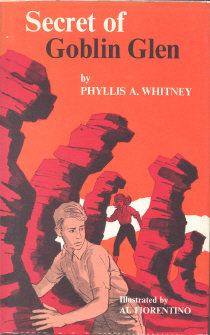 From the jacket
Trina has always thought it rather romantic to have a black sheep in the family.  Forty years ago her Great-uncle Will Horst robbed a bank in a little town in New Hampshire. And now Trina is spending the summer there with friends of her parents, the first one in her family to go back to the scene of the crime.  She soon finds reality less romantic than she had expected.
The long-ago robbery is anything but forgotten in Camberhills.   People are still searching for the stolen money. It is rumored that the two robbers hid it in Goblin Glen, a gloomy, dark valley spiked with peculiar rock formations.
Many people are still full of smoldering enmity toward anyone related to the Horsts! Tex and Florida, the boy and girl in the family Trina is visiting, are far from friendly. There's no doubt about Galvin Sewell's animosity either. He is the grandson of the bank president who was ruined by the crime and he seems to hate Trina.
It's one thing to picture yourself being a heroine, finding a lost fortune and returning it to the rightful owner…but it's something else to find yourself suddenly in the midst of a real-life story full of angry and desperate people. Trina begins to feel desperate too.  Into this seething situation come two long-haired young TV stars, the Buddy Brothers, who are to appear in the local Folk Festival.  Both Trina and Florida are entranced-until they find that these boys, too, are searching for the lost treasure.
A wonderful underground tunnel, an old map, and the feelings of a number of people about what really is important all prove to be parts of the confusing puzzle. As Trina puts the pieces together, the story builds to a breathless climax deep in Goblin Glen. And, as all the participants grow to know one another better, Miss Whitney's theme emerges: that understanding between people is possible and that the generations can learn from each other.
Jacket and text illustrations by Al Fiorentino
Copyright 1968
The Westminster Press
Philadelphia, PA
Library of Congress Card Catalog No. 68-10236
ISBN: N/A


Website content is not to be Duplicated or Distributed.
Except where otherwise noted, all text and graphics on this Web site are © Philip W. Tyo. Written permission must be obtained from Philip W. Tyo before using any text or graphics from this site, either in printed material or other Web sites. By using this Web site, you agree to these Terms of Use and this website Privacy Policy.

Copyright © Philip W. Tyo 1999-2010
This site was created by Philip W. Tyo. All rights reserved.