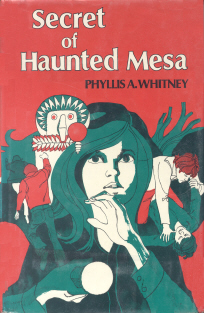 From the jacket
It does not take Jenny long to discover that a strange adventure is waiting for her in New Mexico, and that it has something to do with the black, forbidden mountain. From the moment she arrives with her family at Haunted Mesa Ranch, where her father is lecturing at a conference, things begin to happen. But for once they are happening to her--not to her older sister!
What is moving mysteriously high up on the mesa? Why does the strange Indian boy, Charlie Curtis, take Jenny's precious roadrunner carving and leave, instead, a crudely whittled wooden snake? Why is her new friend, Greg, so belligerent? Who steals the Zuņi drum from the ranch museum? Or the kachina doll from the collection of the beautiful Seņora Consuelo Eliot, the friend of the Indians? And can it really be a giant with a blue head that Jenny glimpses on the rim of the dangerous mesa?
As Jenny and the Seņora try to solve the mystery of all the peculiar and frightening things that seem to involve the silent Indian boy, a new puzzle arises to trouble them. Why are the elders of the San Angelo pueblo so angry with Harry Curtis, Charlie's activist brother?
It is not until an ancient Zuņi drum beats out the rhythms of the age-old festival of Shalako, calling the spirits of warrior ancestors to gather out in the mesa in the white moonlight, that Jenny learns that riddles do not always have obvious answers--and that Indian ways are not always the way of the white man.
Jacket design by John Gretzer
Book design by Dorothy Alden Smith
Copyright 1975
The Westminster Press
Philadelphia, PA
Library of Congress Card Catalog No. 75-4617
ISBN: 0-664-32568-8


Website content is not to be Duplicated or Distributed.
Except where otherwise noted, all text and graphics on this Web site are © Philip W. Tyo. Written permission must be obtained from Philip W. Tyo before using any text or graphics from this site, either in printed material or other Web sites. By using this Web site, you agree to these Terms of Use and this website Privacy Policy.

Copyright © Philip W. Tyo 1999-2010
This site was created by Philip W. Tyo. All rights reserved.