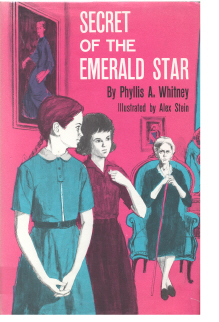 From the jacket
To Mrs. Devery, whose whole world is Staten Island, strangers are not people: they are Jews or Catholics or Cubans or whatever is unlike herself, and therefore very strange indeed. All of which is rather ironic, of course, since the children of the neighborhood look upon the provincial, autocratic old woman herself as a witch.
How well the label fits, thirteen-year-old Robin Ward is in a better position than most to know. She and her family are newcomers to secluded, fading Catalpa Court. From the window of her third-floor bedroom she commands a perfect view of the balconies and turrets of the house next door-can see everything that happens within the shrouded grounds of the big, forbidding Devery place.
None of that first weird scene seems real. Round and round on the front lawn turns a girl in a white dress, her arms out wide as if she were flying, her voice making the tuneless, high-pitched sound of an insect. Suddenly the white-haired mistress of the house, dressed in clothes of another era, rushes toward the girl, grasps her angrily by the arm and virtually drags her away.
A famous sculptor also living in Catalpa Court is willing to teach a limited number of talented beginners. Robin's eagerness to qualify becomes inextricably involved not only with the strange girl and her grim "jailer" but with the fate of a valuable pin made of emeralds and a diamond and shaped like a star. Mystery and menace progressively deepen with Mrs. Devery's behavior amid the ruins of an old house and her association with a short, fat man whose white moon face, bald head, and habit of sucking lemon drops add chills to each sinister moment he appears. Completely unmysterious is the point dramatized by this excellent and exciting book that prejudices about people can only harm the prejudiced.
Jacket and text illustrations by Alex Stein
Copyright 1964
The Westminster Press
Philadelphia, PA
Library of Congress Card Catalog No. 64-16345
ISBN: 0-664-32337-5


Website content is not to be Duplicated or Distributed.
Except where otherwise noted, all text and graphics on this Web site are © Philip W. Tyo. Written permission must be obtained from Philip W. Tyo before using any text or graphics from this site, either in printed material or other Web sites. By using this Web site, you agree to these Terms of Use and this website Privacy Policy.

Copyright © Philip W. Tyo 1999-2010
This site was created by Philip W. Tyo. All rights reserved.