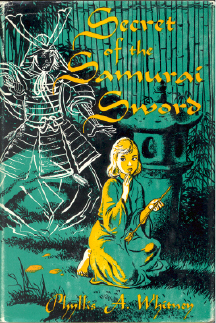 From the jacket
When Celia and Stephen Bronson arrive in Kyoto, Japan, to spend the summer vacation with their vivacious book-writing grandmother, they find a strange mystery awaiting them. It seems that the agonized ghost of an old-time samurai has been haunting the garden of their grandmother's house at night. A distinguished Japanese artist, Gentaro Sato, who lives across the street, is sure that the spirit of one of his samurai ancestors is trying to get a message to him.
Gentaro Sato is very hostile to Americans, and does not like having them for neighbors. But Celia becomes acquainted with his granddaughter Surniko, a nisei (an American born of Japanese parents who are U.S. citizens). Sumiko has come to Japan with her widowed mother to stay in Gentaro Sato's house. The two girls become good friends-but Celia finds that Sumiko is terribly unhappy. Although she feels and acts completely like an American, her grandfather and her young cousin Hiro keep trying to make her conform to Japanese tradition.
One night Celia's brother Stephen persuades Hiro to wait up with him and watch for the ghost in the garden. The two boys actually see the figure, but it disappears before they can discover what it is. Celia, who is always being discounted by Stephen, decides that she herself will unravel the mystery.
Jacket illustration by William M. Hutchinson
Copyright 1958
The Westminster Press
Philadelphia, PA
Library of Congress Card Catalog No. 58-8800
ISBN: N/A


Website content is not to be Duplicated or Distributed.
Except where otherwise noted, all text and graphics on this Web site are © Philip W. Tyo. Written permission must be obtained from Philip W. Tyo before using any text or graphics from this site, either in printed material or other Web sites. By using this Web site, you agree to these Terms of Use and this website Privacy Policy.

Copyright © Philip W. Tyo 1999-2010
This site was created by Philip W. Tyo. All rights reserved.