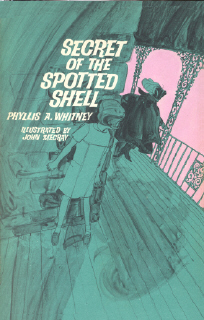 From the jacket
While her father, a bridge builder, is working in Portugal, Wendy Williams goes to the Virgin Islands to live with distant cousins. On her arrival she is puzzled and disappointed to find no one is there to meet her. What could have happened?
A friendly stewardess takes Wendy to Mears Manor where she meets Mark Mears, whose mother runs the hotel, and makes friends with Anita, a Negro Islander, and her grandmother. From them she learns that her cousin, Gordon Cole, is missing on a helicopter flight he took to rescue a friend lost in Vietnam, and that Marion, his wife, has been hospitalized with shock at the news of Gordon's disappearance. When Uncle Paul and Aunt Elinor bring Marion home from the hospital, Wendy joins them at the Villa Mimosa. But she couldn't have arrived at a more upsetting time. Marion has shut herself up in her bedroom. Aunt Elinor spends her time crying and worrying over Marion. Only Uncle Paul seems concerned about Wendy and tries to befriend her. Everyone hopes Wendy will be able to bring Marion "out of herself," but everything Wendy does only seems to make matters worse. How can she make this her new home when Aunt Elinor and Marion so obviously don't want her here?
Late that night Marion calls Wendy to her room and sends her on a secret mission to get a particular shell from Gordon's rare shell collection. It's a cream-colored cone-shaped shell with dark brown markings on it that look like lettering. It's the shell that sent Gordon rushing to Vietnam to find his friend. Marion and Wendy both feel it must contain a message, but what they are unable to discover. Marion hides the shell in her bedroom and makes Wendy promise to tell no one about it. Trouble starts the next day when Mark Mears comes to the Villa and steals a similar shell from the collection. Mr. Helgerson, a mysterious stranger who arrived on the same plane as Wendy, is also very much interested in Gordon's shell collection and arouses Wendy's suspicions by his strange actions. What is the secret message the shell holds? Who is the mysterious stranger? Who is the real culprit? What happens to Gordon? Does Wendy find a new home?
Illustrated by John Mecray
Copyright 1967
The Westminster Press
Philadelphia, PA
Library of Congress Card Catalog No. 67-10016
ISBN: N/A


Website content is not to be Duplicated or Distributed.
Except where otherwise noted, all text and graphics on this Web site are © Philip W. Tyo. Written permission must be obtained from Philip W. Tyo before using any text or graphics from this site, either in printed material or other Web sites. By using this Web site, you agree to these Terms of Use and this website Privacy Policy.

Copyright © Philip W. Tyo 1999-2010
This site was created by Philip W. Tyo. All rights reserved.