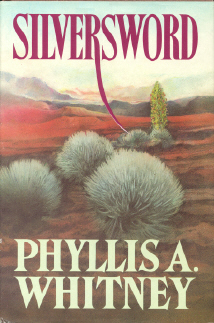 From the jacket
It's strange the way vivid dreams, or vivid relivings of the past, can affect one afterward. Joanna had invited David to come for breakfast, and when he walked into the kitchen, I found myself looking at him with a new self-consciousness that was almost embarrassment. I wondered if he had ever relived our trip to the Needle. But of course he couldn't have. He probably had no idea of all he'd meant to a small girl that day, or of how dearly I'd loved him with a child's yearning, innocent affection.
Could Caroline Kirby ever rekindle the feelings of that happy past? Could she go back to Maui-that loveliest of Hawaiian islands, where, she had been born and where, for her first six years, she had lived so contentedly with her parents and her grandmother Joanna? Then something dreadful and mysterious had happened, and her childhood world had been shattered by a death that no one would explain.
Taken away to San Francisco by her father's mother, grandmother Elizabeth, Caroline found that all her ties with Maui were broken. Elizabeth determined that her granddaughter must never see the island again, must never know what had happened there.
But Caroline, now grown and needing to escape from a disastrous marriage and unhappy divorce, learns unexpectedly of the deception on which her life has been built. Now she must return to face the secret that has lain hidden all these years in the brooding crater of Haleakala. Not only her grandma Joanna waited for her on Maui, but she was to find David again-now an exciting and enigmatic man who would change her life forever.
Jacket illustration by Linda Fennimore
Jacket typography by Casey Koh
Copyright 1987
Doubleday & Company, Inc. New York, NY
Library of Congress Card Catalog No. 86-4471
ISBN: 0-385-23666-2


Website content is not to be Duplicated or Distributed.
Except where otherwise noted, all text and graphics on this Web site are © Philip W. Tyo. Written permission must be obtained from Philip W. Tyo before using any text or graphics from this site, either in printed material or other Web sites. By using this Web site, you agree to these Terms of Use and this website Privacy Policy.

Copyright © Philip W. Tyo 1999-2010
This site was created by Philip W. Tyo. All rights reserved.