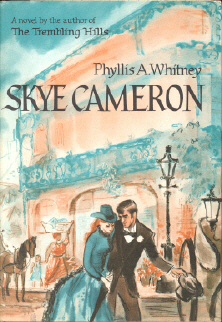 From the jacket
Skye Cameron was proud to be named for that far misty island in the Scottish Hebrides where her father had been born--and she was proud of everything that linked her to her father except her rich, red hair.  She had always feared those things in herself that were her mother's--things that might be called Creole, soft and charming.  But it was not until Skye came to the latticed, dark house in the French Quarter of New Orleans that she found a reason for that fear.
There she met her Uncle Robert Tourneau, a Creole aristocrat, who promised to be as strong as her mother was weak.  But there she also found herself helpless to stop her mother's reckless flirtations.  There Delphine, the tall quadroon who ruled the household, watched her every movement with stern disapproval.  And Skye seemed to have no choice but to rebel.
In New Orleans, on Gallatin Street, she had her first encounter with Justin Law.  A tall, blond man, he seemed to mock her, staring boldly at her flaming hair.  She sometimes wished that she had never met him.  Yet he stirred Skye as no man had done before.
A tense, enthralling story of a talented young woman who discovers that she is the pawn in a man's vicious game--Skye Cameron moves from the nostalgic Vieux Carré, to the gracious Garden District and into a gambling casino named L'Oiseau d'Or.
Jacket design by Ezra Jack Keats
Copyright 1957
Appleton-Century-Crofts, Inc. New York, NY
Library of Congress Card Catalog No. 57-9031
ISBN: N/A


Website content is not to be Duplicated or Distributed.
Except where otherwise noted, all text and graphics on this Web site are © Philip W. Tyo. Written permission must be obtained from Philip W. Tyo before using any text or graphics from this site, either in printed material or other Web sites. By using this Web site, you agree to these Terms of Use and this website Privacy Policy.

Copyright © Philip W. Tyo 1999-2010
This site was created by Philip W. Tyo. All rights reserved.