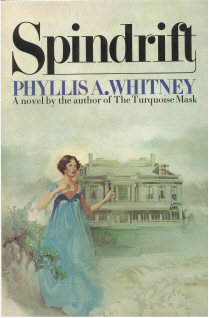 From the jacket
Inside the wall of a palatial Newport estate, a violent struggle was beginning. Christy Moreland had come back to Spindrift determined to uncover the truth behind the mansion's most tightly held secret: the reason for her father's death.
It was a truth that, at times, Christy felt she was barely strong enough to face, for it meant openly confronting Spindrift's domineering mistress-her mother-in-law, Theodora Moreland.
Yet it was a battle that Christy knew she could not escape, especially if she was to free her young son from the obsessive and destructive hold the Morelands had come to exert over him.
As Christy searches out the mysteries that haunt Spindrift-and the people in it-she slowly unveils a tightly woven web of deceit that only murder can continue to conceal....
Jacket illustration by William Maughan
Jacket typography by Robert Silton
Copyright 1975
Doubleday & Company, Inc. Garden City, NY
Library of Congress Card Catalog No. 74-14384
ISBN: 0-385-08454-4


Website content is not to be Duplicated or Distributed.
Except where otherwise noted, all text and graphics on this Web site are © Philip W. Tyo. Written permission must be obtained from Philip W. Tyo before using any text or graphics from this site, either in printed material or other Web sites. By using this Web site, you agree to these Terms of Use and this website Privacy Policy.

Copyright © Philip W. Tyo 1999-2010
This site was created by Philip W. Tyo. All rights reserved.