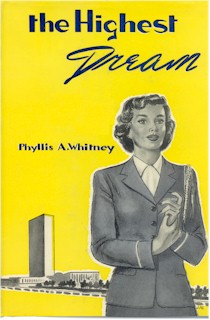 From the jacket
When Lisa Somers becomes a tour guide at the United Nations, she is following her desire to escape from the shadow of her father's fame as a radio commentator in Washington, D. C., and find herself as an individual.
In New York there are the problems of a fascinating new job where she learns to know girls of many nations. Falling in love is to play no part in Lisa's immediate plans, but from the time when Norman Bond of the UN radio department "crashes" her tour, she finds herself more interested than she wants to be. There is already a girl in Norman's life-Reland Munro, a gentle, unhappy Scotch-Irish girl with a tragic past.
Against the background of the UN, Lisa works out her personal problems and finds as well a larger goal than she had expected. The Highest Dream provides a behind-the-scenes view of the United Nations as that vast organization is seen by those who are a working part of it.
Jacket design by John Nielson
Copyright 1956
David McKay Company, Inc. New York, NY
Library of Congress Card Catalog No. 56-8599
ISBN: N/A


Website content is not to be Duplicated or Distributed.
Except where otherwise noted, all text and graphics on this Web site are © Philip W. Tyo. Written permission must be obtained from Philip W. Tyo before using any text or graphics from this site, either in printed material or other Web sites. By using this Web site, you agree to these Terms of Use and this website Privacy Policy.

Copyright © Philip W. Tyo 1999-2010
This site was created by Philip W. Tyo. All rights reserved.