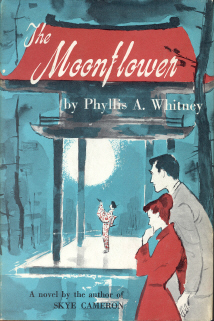 From the jacket
When Jerome Talbot's brilliant scientific career led him to Japan, his wife, Marcia, knew it meant a long separation for them. But she confidently awaited word to join him and when, instead, she received his letter asking for a divorce, the news came as an overwhelming blow. In shock and dismay, she flew at once to her husband in Kyoto, hoping to wrest from him some reason for his determination to end their marriage.
When she arrived, she discovered Jerome living on terms of extraordinary intimacy with the Japanese family in the house next door. He forbade Marcia to see them or talk to them, and yet she could not help but see that he was in some mysterious way at their command. For the rest, she met a blank wall of indifference in him, broken occasionally by a bitter wish to humiliate her.
Though fear and frustration invaded her heart, Marcia kept to her purpose. If she couldn't win back Jerome's love she could, for the sake of their happy years together, try to help him with a problem -which she did not understand, but which she felt threatened his sanity.
Jacket design by Ezra Jack Keats
Copyright 1958
Appleton-Century-Crofts, Inc. New York
Library of Congress Card Catalog No. 58-12827
ISBN: N/A


Website content is not to be Duplicated or Distributed.
Except where otherwise noted, all text and graphics on this Web site are © Philip W. Tyo. Written permission must be obtained from Philip W. Tyo before using any text or graphics from this site, either in printed material or other Web sites. By using this Web site, you agree to these Terms of Use and this website Privacy Policy.

Copyright © Philip W. Tyo 1999-2010
This site was created by Philip W. Tyo. All rights reserved.