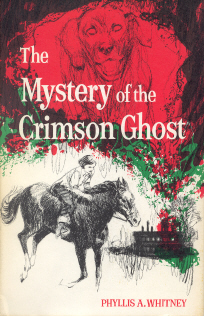 From the jacket
Janey has "horse fever," so it's love at first sight when she meets Star. Janey is spending the summer in New Jersey's Sussex County, and the beautiful thoroughbred is stabled right across the lake from Aunt Viv's.
Star belongs to eccentric Mrs. Burley, who lives with her two grandsons in the ruins of a burned-out hotel. Roger, the older grandson, is quite friendly, but Denis is sullen and suspicious. Mrs. Burley is not only crotchety-it's even whispered that she may be "crazy." And she has a ghost! On moonlit nights the community is awakened by a phantom hound, bathed in eerie red light and howling horribly at the moon.
Exactly how do you make friends with a horse whose owner is so peculiar? How can a person sensible enough to love horses believe in ghosts? And if the apparition isn't a ghost, what is it? There's mounting suspense as Janey begins to unravel the mysteries surrounding Star.
Jacket design by Clifford Schule
Copyright 1969
The Westminster Press
Philadelphia, PA
Library of Congress Card Catalog No. 69-14202
ISBN: 0-664-32440-1


Website content is not to be Duplicated or Distributed.
Except where otherwise noted, all text and graphics on this Web site are © Philip W. Tyo. Written permission must be obtained from Philip W. Tyo before using any text or graphics from this site, either in printed material or other Web sites. By using this Web site, you agree to these Terms of Use and this website Privacy Policy.

Copyright © Philip W. Tyo 1999-2010
This site was created by Philip W. Tyo. All rights reserved.