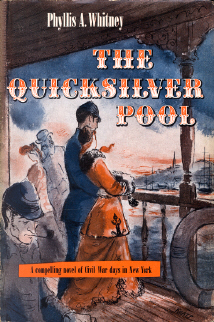 From the jacket
When Lora Blair married Wade Taylor in the ravished little Southern border town where she was born, she knew he loved only his lost wife, Virginia. But Lora herself had given up all hope for love when her fiancé had been killed in the War. Now she was ready to face without faltering the life she had chosen with the hollow-cheeked Union soldier who was her husband.
In the cold, unfriendly family mansion on Staten Island, where Wade brought her after their long journey North, Lora found she needed all the strength she could summon. The painful mystery of Virginia's death lay heavily over the house, and Wade's invalid mother was openly antagonistic and disapproving. The woman was determined to get her own way in raising Jemmy, the shock-haired, appealing little boy, who had been Virginia's only child.
But it was outside her own home, in the person of dark-eyed Morgan Channing, that Lora met her most formidable opposition. When Morgan decided to use the challenge of her striking beauty as a weapon to lure Wade into political entanglements, and win him for herself, Lora found that the early tenderness she had cherished for her husband had grown into something far more compelling.
In this romantic novel, Phyllis Whitney gives us a story of a family threatened by remembered love.  Here, too, is a dramatic portrait of New York at a time when the North had lost heart in the struggle between the states and the copperheads posed ready to stir the malcontents into open rebellion against the continuance of the War.
Jacket design by Ezra Jack Keats
Copyright 1955
Appleton-Century-Crofts, Inc. New York
Library of Congress Card Catalog No. 55006547
ISBN: N/A


Website content is not to be Duplicated or Distributed.
Except where otherwise noted, all text and graphics on this Web site are © Philip W. Tyo. Written permission must be obtained from Philip W. Tyo before using any text or graphics from this site, either in printed material or other Web sites. By using this Web site, you agree to these Terms of Use and this website Privacy Policy.

Copyright © Philip W. Tyo 1999-2010
This site was created by Philip W. Tyo. All rights reserved.