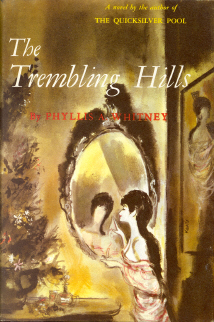 From the jacket
Long before Sara came to San Francisco, the candle-lit figure in the mirror had haunted her dreams. But in the towering, old Varady mansion, where the sound of a kitten's mewing could make a domineering woman quake with fear, the nightmare turned into reality.
Sara had grown up in Chicago strangely shielded by her mother from any knowledge of her father, or of her parents' San Francisco background. Yet the city was connected in her mind not so much with her family, as with Ritchie Temple, who had left Chicago to follow Judith Renwick west. In her own estimation, Ritchie was the only man for Sara. Judith, ash blonde and fragile as a figurine, was surely no match for Ritchie. Once she arrived in the city of the Golden Gate, she determined to win him back. Yet San Francisco held more for Sara -- she was to find there a clue to her mysterious past.
High on Nob Hill, once again close to the man she loved, anything sinister should have seemed remote. But Sara's childhood dream recurred ominously. Only Nick Renwick, Judith's aloof brother, seemed to offer comfort when the dream came. It was the earthquake and fire, sweeping ravenously through the city, and Geneva Varady, old Hester Varady's gentle ward, that brought matters to a climax. Sara, who had always flung herself headlong into life, discovered that she faced a force from the past difficult to accept.
Visit some of the locations featured in Phyllis A. Whitney's The Trembling Hills, along with some corresponding excerpts.
Jacket design by Ezra Jack Keats
Copyright 1956
Appleton-Century-Crofts, Inc. New York
Library of Congress Card Catalog No. 56-10609
ISBN: N/A


Website content is not to be Duplicated or Distributed.
Except where otherwise noted, all text and graphics on this Web site are © Philip W. Tyo. Written permission must be obtained from Philip W. Tyo before using any text or graphics from this site, either in printed material or other Web sites. By using this Web site, you agree to these Terms of Use and this website Privacy Policy.

Copyright © Philip W. Tyo 1999-2010
This site was created by Philip W. Tyo. All rights reserved.