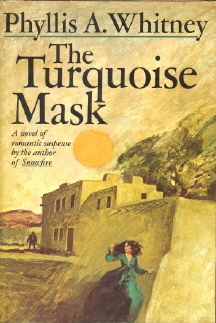 From the jacket
Beneath the New Mexico sun, an intense drama is unfolding. Amanda Austin has come to Santa Fe to learn the truth about her mother-who died mysteriously when Amanda was only five. She has come to face her mother's family, the Cordovas-and a part of her heritage kept secret from her since childhood.
It isn't going to be a pleasant truth to face. She knows this from the moment she enters her grandfather's house-a dark Spanish hacienda that seems to guard its ancient secrets like a tomb.
It is going to involve facing in herself the fiery Spanish blood of the Cordovas-that more than once over the years has erupted in jealous rage, cruelty, and possibly murder....
Jacket illustration by Ben Stahl Jacket typography by Amy Bisso
Copyright 1973, 1974
Doubleday & Company, Inc. Garden City, NY
Library of Congress Card Catalog No. 73-10823
ISBN: 0-385-08514-1


Website content is not to be Duplicated or Distributed.
Except where otherwise noted, all text and graphics on this Web site are © Philip W. Tyo. Written permission must be obtained from Philip W. Tyo before using any text or graphics from this site, either in printed material or other Web sites. By using this Web site, you agree to these Terms of Use and this website Privacy Policy.

Copyright © Philip W. Tyo 1999-2010
This site was created by Philip W. Tyo. All rights reserved.