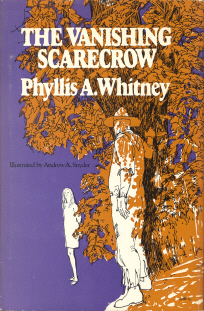 From the jacket
Joan had thought that it would be wonderful to live on Rainbow Island, the fantastic children's amusement park her uncle had built. When she and her mother move there Joan is sure she will be a new person among the bright, multicolored structures of the fairytale village. But she soon sees that some real danger threatens the serenity of the make-believe world.
How could the evil-looking dummy witch in the Witch's Lair suddenly come to life? Who or what is the scarecrow that races through the streets of Rainbow Town at night? Why does the voice echoing in the Wizard's Fortress make Joan want to cry? Why do the residents of Rainbow Town, the beautiful storybook park, seem so frightened and angry?
Animosity and resentment meet Joan everywhere. The manager, Mr. Riddell, and his strange daughter, Sheri, are unfriendly, to say the least. Mrs. Riddell is terrified of something. Peter and Kent, sons of the woman who runs the gift shop, are curt and angry. When Joan explores the exhibition buildings, Emery Holt, the handyman, tells her to mind her own business.
But the secret message concealed in the carved tiger says that the evil abroad in Rainbow Town is her business. When someone locks her in the dark grotto of the Dragon's Cave and the dreamlike world of Rainbow Town becomes a nightmare, she knows she must act swiftly!
Before the mystery unravels to its astonishing climax and happiness returns to Rainbow Town, Joan the dreamer collides with reality in the very place where it is hardest to tell fantasy from fact.
Illustrated by Andrew A. Snyder
Copyright 1971
The Westminster Press Philadelphia, PA
Library of Congress Card Catalog No. 72-146846
ISBN: 0-664-32494-0


Website content is not to be Duplicated or Distributed.
Except where otherwise noted, all text and graphics on this Web site are © Philip W. Tyo. Written permission must be obtained from Philip W. Tyo before using any text or graphics from this site, either in printed material or other Web sites. By using this Web site, you agree to these Terms of Use and this website Privacy Policy.

Copyright © Philip W. Tyo 1999-2010
This site was created by Philip W. Tyo. All rights reserved.