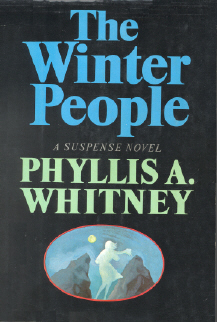 From the jacket
When Glen Chandler first removed the combs from Dina's pale hair and said, "You're my winter girl," Dina seemed to surrender her will to him forever. She married Glen without even seeing High Towers, the remote Victorian estate whose windows, like eyes, still watched the lake where Glen's mother had once drowned. A summer person herself, Dina did not know that the Chandlers were winter people-as cold is the ice around High Towers. She did not know they could turn her very heart to ice.
Dina had often heard of Glen's father, the world-renowned portrait painter. Glen himself had once shown great promise as a sculptor, and he seemed obsessed with the alabaster head he was doing of her. Yet before their marriage, Glen had kept the all-important fact from Dina: he had a twin sister. It is soon clear that it is to Glynis, his twin as dark as Dina is fair, that Glen listens. Always inseparable, always united, they seem to stand as one against Dina-as if playing some wild game of their own.
Dina soon finds herself in mortal terror. Yet what Glynis' evil influence can do to Glen and to her marriage is only the beginning of the high danger Dina will face. For this novel might be said to be about demon possession. And all those at High Towers are haunted, possessed.
Jacket by Paul Bacon
Copyright 1969
Doubleday & Company, Inc. Garden City, NY
Library of Congress Card Catalog No. 69-12244
ISBN: N/A


Website content is not to be Duplicated or Distributed.
Except where otherwise noted, all text and graphics on this Web site are © Philip W. Tyo. Written permission must be obtained from Philip W. Tyo before using any text or graphics from this site, either in printed material or other Web sites. By using this Web site, you agree to these Terms of Use and this website Privacy Policy.

Copyright © Philip W. Tyo 1999-2010
This site was created by Philip W. Tyo. All rights reserved.