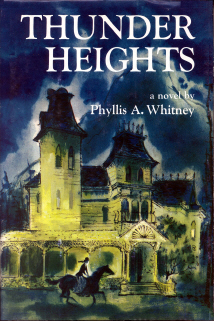 From the jacket
To Camilla King, her trip up the Hudson to the huge Gothic mansion named Thunder Heights was in a way a return to the home that had never been hers. From there her grandfather, Orrin Judd, the financier, ran his vast empire. When Camilla had been a child her mother had returned there for a visit and mysteriously died. From that point on, for reasons she had never understood, Camilla's father had cut himself off completely from the Judd family. And later Camilla, now an orphan and quite alone, had been making her way as a governess in New York City.
The summons from the old man had come as a complete surprise. Yet Camilla obeyed it willingly, half out of curiosity, half in the hope of discovering a home and family of her own. She found a sick old man anxious to make his peace with her before he died. She found two extraordinary aunts--imperious Aunt Hortense, dressed in bygone fashions, and fey, ghostlike Aunt Letty, haunted by some strange guilt or sorrow. She found also Hortense's adopted son, Booth, a strange, sardonic young man who seemed content to idle away his considerable talents as a painter, and Ross Granger, who had been brought there as an aide to her grandfather and who treated her with the most rigid formality.
Over the enormous house hung an atmosphere of gloom, impending danger, and strange crosscurrents. And out of these elements Phyllis Whitney has fashioned an extraordinarily holding story. Old Orrin Judd's amazing will, young Booth's unfinished portrait of Camilla's mother, the house itself, which took on a character of its own, and one near-accident after another, seemingly aimed at driving Camilla away, all play their parts.
Jacket design by Ezra Jack Keats
Copyright 1960
Appleton-Century-Crofts, Inc. New York
Library of Congress Card Catalog No. 60-6170
ISBN: N/A


Website content is not to be Duplicated or Distributed.
Except where otherwise noted, all text and graphics on this Web site are © Philip W. Tyo. Written permission must be obtained from Philip W. Tyo before using any text or graphics from this site, either in printed material or other Web sites. By using this Web site, you agree to these Terms of Use and this website Privacy Policy.

Copyright © Philip W. Tyo 1999-2010
This site was created by Philip W. Tyo. All rights reserved.