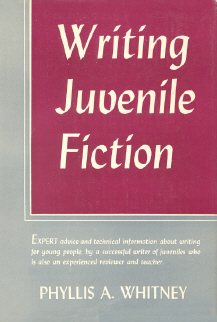 From the jacket
Out of her long experience in writing for young people and with the unusually broad view of the juvenile field which she enjoys as a reviewer, Miss Whitney has produced a book which gives not only the ABC's of writing for children, but which will be helpful to the experienced writer as well. The juvenile writing field is thoroughly analyzed by type of story and age group. The reader is then given a wealth of technical information about gathering ideas and material and working out the final, salable product.
WRITING JUVENILE FICTION covers every aspect of the juvenile field. There are chapters which will help the writer to discover the phase of writing for children most likely to suit him. There are chapters on working habits and the ability to use technique as a tool. There are excellent discussions of characterization and plotting, of the beginning and ending of a story or book, and of the final phase--marketing the finished product.
Miss Whitney illustrates her points with examples from published stories and books. Throughout she refers to recent books for children which the writer can read with profit.
Writing for children entails a great many special requirements and taboos. Miss Whitney lists and explains all these, greatly smoothing the path of the beginning writer, as well as giving the experienced writer a broader view of the field. Much of the advice in WRITING JUVENILE FICTION could be applied to all good writing, but for the writer who likes young people and has a special interest in the juvenile field, this book will be invaluable.
Copyright 1947
The Writer Inc.
Boston, MA
Library of Congress Card Catalog No. 47-4294
ISBN: N/A

Website content is not to be Duplicated or Distributed.
Except where otherwise noted, all text and graphics on this Web site are © Philip W. Tyo. Written permission must be obtained from Philip W. Tyo before using any text or graphics from this site, either in printed material or other Web sites. By using this Web site, you agree to these Terms of Use and this website Privacy Policy.

Copyright © Philip W. Tyo 1999-2010
This site was created by Philip W. Tyo. All rights reserved.