My impression of the audio version of Feather on the Moon
I've read all of Phyllis A. Whitney's books, but there are so many of them that it's easy for me to forget the storylines over time (which make rereading them all the more enjoyable!). I recall one time when Phyllis, herself, was rereading one of her older books and found that she also forgot the plot of the story. After all, she wrote so many books, articles, short stories, book reviews, and more in her lifetime. In a letter that I received some years ago from Phyllis, she wrote about rediscovering one of her earlier books and how she was fascinated by what she was reading. At one point in the letter she wrote that the suspense in the book held her "breathless"!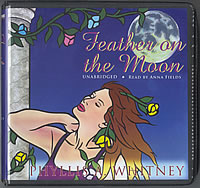 So, I was excited to revisit the story of Feather on the Moon -- this time in audio format from Blackstone Audio -- to experience the story in a new way. This was the first of Phyllis A. Whitney's books to be released on CD, and I received the lovely 7 CD Library Edition from Blackstone Audio. It arrived in a glossy CD plastic case with some pretty artwork. The CDs were bound within the case, and each CD was stored in a protective sleeve. For about two weeks, I listened to the book as I traveled to and from my job. As I listened to the narration, I could not resist being drawn into the story in a new and enjoyable way.
The narrator, Anna Fields, created more than 12 voices to bring the characters in the book to life. Whenever I begin listening to an audiobook I find that I need time to get used to the narrator's rendition of character voices -- voices that I prefer to create in my own imagination. This was true of this audiobook as well. At first, I felt that Anna's male voices sounded a bit strained and flat –- one dimensional. The voices of Kirk (the mysterious chauffeur) and Joel (the family physician) sounded alike. Anna did much better creating distinct voices for the female characters. In time, however, as the story progressed I grew comfortable with Anna's characterizations and her ability to slip between the various voices with ease. I found that I was looking forward to my drive to work just so that I could continue with the story. When it was finished, I realized how much I enjoyed listening to this reading of the book. It provided a pleasant and relaxing commute to work, and made the trips go much more quickly. I look forward to hearing more of Phyllis A. Whitney's stories this way.