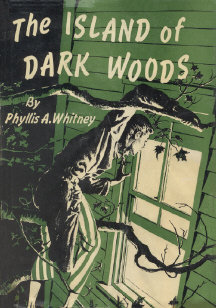 From the jacket
The large old house next to Aunt Serena's small, modern home on Staten Island looks dark and forbidding.  Its occupants, Mr. Bennett and his grandson, Norman, seem most unfriendly.  Laurie Kane, Aunt Serena's niece, is sure that the house is haunted, yet she is surprised when assured that it is!  Later she stumbles upon the disagreeable Mr. Bennett and blurts out the question about the ghost that haunts his house.  "You mean the phantom stagecoach?" he asks, but will say no more.
Laurie and her sister Celia are completely baffled until Aunt Serena tells them the strange story behind the mystery - an incident that had occurred many years before. Feeling sure that the old house still hides the important clue, they gain entrance to it by inventing excuses to see Mr. Bennett. Once inside, they set off a chain of events that leads them back a hundred years before they can find an answer.
The Island of Dark Woods was reissued in 1967 under the title Mystery of the Strange Traveler.
Jacket and text Illustrations by Philip Wishnefsky
Copyright 1951
The Westminster Press
Philadelphia, PA
Library of Congress Card Catalog No. 51-10045
ISBN: N/A

Website content is not to be Duplicated or Distributed.
Except where otherwise noted, all text and graphics on this Web site are © Philip W. Tyo. Written permission must be obtained from Philip W. Tyo before using any text or graphics from this site, either in printed material or other Web sites. By using this Web site, you agree to these Terms of Use and this website Privacy Policy.

Copyright © Philip W. Tyo 1999-2010
This site was created by Philip W. Tyo. All rights reserved.