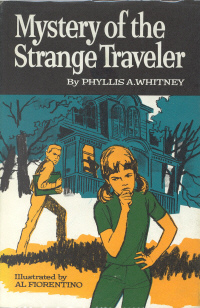 From the jacket
When impulsive, imaginative Laurie, and her practical sister, Celia, go to visit Aunt Serena on Staten Island, the dark, dreary house next door fascinates them from the moment they arrive. Celia is interested in discovering why Norman, the boy who lives there, is so unfriendly; Laurie wants to know all about the phantom stagecoach, which is said to draw up to the house on rainy nights.
Aunt Serena tells the girls the strange story behind the mystery - an incident that had occurred many years before and apparently left a strange mark on the whole family. Feeling sure that the old house still hides important clues, they gain entrance to it by inventing excuses to see Norman's grandfather, Mr. Bennett, who is almost as forbidding as the house itself. Once inside, they set off a chain of events that leads them back a hundred years through Staten Island's history, before they solve the puzzle and find the answers to a few present-day problems as well.
Mystery of the Strange Traveler was a reissue of Miss Whitney's 1951 book, The Island of Dark Woods.
Jacket and text illustrations by Al Fiorentino
Copyright 1951, Reissued 1967
The Westminster Press Philadelphia, PA
Library of Congress Card Catalog No. 67-16532
ISBN: N/A


Website content is not to be Duplicated or Distributed.
Except where otherwise noted, all text and graphics on this Web site are © Philip W. Tyo. Written permission must be obtained from Philip W. Tyo before using any text or graphics from this site, either in printed material or other Web sites. By using this Web site, you agree to these Terms of Use and this website Privacy Policy.

Copyright © Philip W. Tyo 1999-2010
This site was created by Philip W. Tyo. All rights reserved.