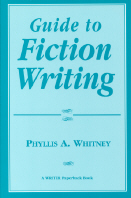 In her Guide to Fiction Writing, published by The Writer, Inc., Phyllis A. Whitney shares with writers and nonwriters alike her tested methods and techniques for writing successful fiction novels. Through candid revelations into her early years as an aspiring writer, to the daily writing habits she developed, in part, from her 12 years as a teacher of writing, Phyllis A. Whitney discusses those methods for planning and writing novels that have proved not only successful, but have made Phyllis A. Whitney both a consistent and versatile writer. Throughout her Guide to Fiction Writing, Phyllis A. Whitney uses specific examples from many of her own novels to support her methods. Readers are treated to behind-the-scenes details into the creation of best-selling novels such as Vermilion, Poinciana, The Glass Flame, Listen for the Whisperer, and more! Even if you are not a writer by trade, you will this how-to book to be a delightful glimpse into the working life of one of the world's best-selling novelists.
In her "Methods and Process" section, Phyllis A. Whitney prepares the aspiring writer to write. In providing the tools for researching and outlining, developing characters and plot, finding the "Plus Factor," and "Using the Force" within, Phyllis A. Whitney assists the writer in preparing to develop significant and marketable stories. In her section on "Technique," Phyllis A. Whitney leads the writer through creating beginnings (those critical openings in stories that must involve the reader), navigates them through those difficult middles, and guides them in developing climaxes and endings that will ultimately satisfy the reader. She also devotes several chapters on teaching writers techniques on developing critical elements such as "Suspense" and "Emotion" to keep those pages turning. Finally, Phyllis A. Whitney discusses the necessary revising and rewriting phase of a novel, and ultimately how to get the novel published.
Throughout her years of teaching and writing textbooks on fiction writing, Phyllis A. Whitney has inspired countless writers. This is no more apparent than by the many books from former students that have lined the shelves of her study, as well as the countless letters she's received from those who have been inspired by her teachings on fiction writing.
The Writer, Inc.
Phyllis A. Whitney's history with The Writer, Inc. dates back more than 53 years when her article "Characters or Counterfeits" was first published in the April 1946 issue of The Writer magazine -- the "oldest magazine for literary workers." One year later, in 1947, the company published her first textbook Writing Juvenile Fiction. Her second textbook, Writing Juvenile Stories and Novels was published in 1978, and four years later, in 1982, her Guide to Fiction Writing was published. While all of her textbooks have been reprinted several times over, only the Guide to Fiction Writing remains in print today.


The Writer Vol. 1, April 1887
First published in 1887, The Writer magazine was created to serve as a guide for beginning writers. Since its inception more than 112 years ago, The Writer has been continually published on a monthly basis, and has consisted of countless articles written by influential literary figures of yesterday and today. The magazine has offered valuable assistance to writers on all aspects of writing, as well as provided information on where to submit manuscripts.
Phyllis A. Whitney attributes part of her writing success to the support and encouragement of Abraham and Sylvia Burack. Abraham Burack was the editor of The Writer magazine from 1936 to 1978. His wife, Sylvia K. Burack, also a well-known editor in the field of publishing, assumed the post in 1978 and continued to serve as the magazine's editor-in-chief until she sold the company in 1999. "I feel that their magazine is the best of all writers' magazines and I am proud to be on their editorial board" says Phyllis A. Whitney. "Writing articles for The Writer has given me great satisfaction over the years. Not all writers know how they write. I do and I have always enjoyed helping other writers--as I was helped."
For more than 23 years, Phyllis A. Whitney has served on The Writer magazine's editorial board, a position that she has shared with such well-known authors as Anya Seton, Mary Higgins Clark, Sidney Sheldon, and Isaac Asimov just to name a few. In fact, the list of literary luminaries who have contributed to the magazine is quite extensive, and reads like a Who's Who of 20th century American literature. It goes without saying that these leading writers, as well as those lesser-known, have all contributed to the rich legacy of The Writer in offering more than a century of practical advice on how to write.
To order your copy of Phyllis A. Whitney's best-selling Guide to Fiction Writing, visit The Writer Web site. And tell them that you were referred to them by The Official PHYLLIS A. WHITNEY Web site!